Folkadu was founded by the singer and trumpet player Yael Gat in 2017. With her sonorous voice, she takes the listeners on a musical and cultural journey of the jewish people, accompanied melodically and rhythmically by the accordion and the oud. These instruments, which connect us to the known sounds of the West and the mysterious sounds of the Middle East, are augmented by the shofar (a natural wind instrument made from a kudu antelope) and the trumpet.
Folkadu presents a world-wide repertoire, written by Jewish composers. The Ensemble is influenced by classical, swing, balkan and middle eastern music in a similar way as the Jewish composers were influenced by the diversity of music in the Diaspora. The songs are sung in Hebrew, Yiddish and Ladino (Judeo-Spanish), as well as in German. From traditional tunes to moderne melodies, the audience will be able to absorb the diverse landscapes, empathize with the love songs, get carried away by longing and nostalgia and wildly dance to the hora melodies.
In 2017 Folkadu was accepted into the artists program of YEHUDI MENUHIN Live Music Now Munich. In this framework, they engaged themselves mainly in the social field, such as old people's homes, child psychiatry, prisons, homeless shelters, facilities of addicts, in a hospice, etc.
Since 2018, the ensemble has been regularly engaged by the Central Council of Jews in Germany and has also been engaged for various Jewish events, such as Jewish Culture Days, Initiative 27th January (Holocaust Remembrance Day), Israel Day, Deutsch-Israelische Gesellschaft e.V., The Jewish Agency DE and as a supporting program for the Bavarian State Ministry.

In the Interfaith dialogue, the ensemble has performed at the "Week of Brotherhood" in Munich, "Christus Forum" in Aichach, "Wort & Klangzeit" in Gauting and in various Christian churches in Berlin. Folkadu intends to expand this even further in the future.
Yael Gat - Singer, Trumpet & Shofar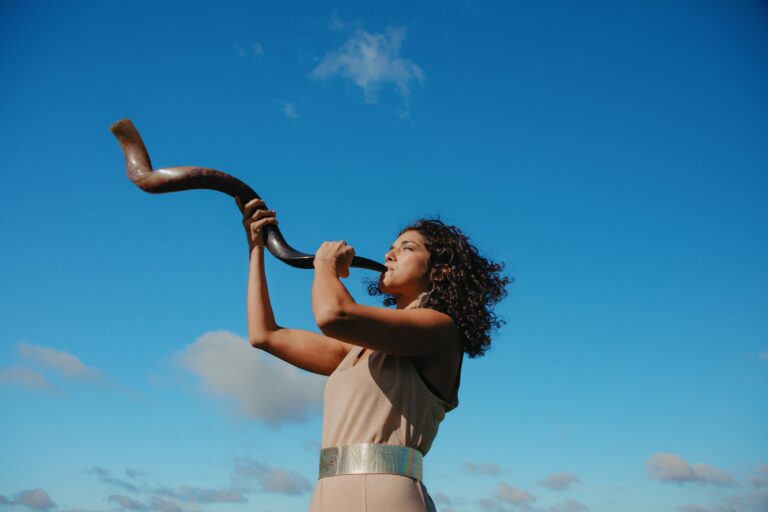 Yael Gat was born in Haifa (Israel) and began her musical training on the trumpet there at the age of 11.
She completed her Bachelor of Music degree at the Buchmann-Mehta School of Music in Tel Aviv, where she played trumpet as a soloist in the college orchestra and won 1st prize in the college chamber music competition. During this period, Yael played in the Buchmann Mehta School of Music Symphony Orchestra and toured with it, under the direction of Maestro Zubin Mehta, through Brazil (Salle Sao Paolo), the USA (Carnegie Hall NY) and Switzerland (Tonhalle Zurich). In Israel, she has performed with leading orchestras such as the Israeli Philharmonic Orchestra, the Haifa Symphony Orchestra and the Israeli Opera Orchestra. A special honor for her was her participation in the opera "Aida", a co-production with La Scala Milano Orchestra and the Israeli Opera Orchestra, conducted by Daniel Barenboim, in Tel Aviv in 2009.
In 2013, she moved to Germany, where she completed her Master of Music degree at the University for Music and Performing Arts in Munich.
After she had already lived in Germany for more than three years, far away from her family, her homesickness for her homeland became more and more intense. She increasingly missed her culture and the music that always accompanied her in her childhood. She longed for the moments she remembered at family gatherings as a child, such as when her grandparents spoke Yiddish to each other, when her aunt spoke to her sister on the phone in Ladino, when her father listened to a radio station every weekend that played the old Hebrew folk songs. This unique Jewish melting pot that was part of her childhood was missing from her life in Germany. She felt the need to express her personal imprint through her music.
At the end of 2016, right after finishing her master's degree in Munich, she decided to take a different musical path and founded the music ensemble Folkadu, where she performed as a singer in addition to playing the trumpet. With Folkadu she performs a wide repertoire of Jewish folk songs in Hebrew, Yiddish and Ladino throughout Germany, giving audiences the opportunity to hear a mix of Jewish music from around the world.
Today Yael Gat lives in Berlin. As a freelance musician she collaborates with numerous artists and serves a repertoire ranging from classical to modern electronic music.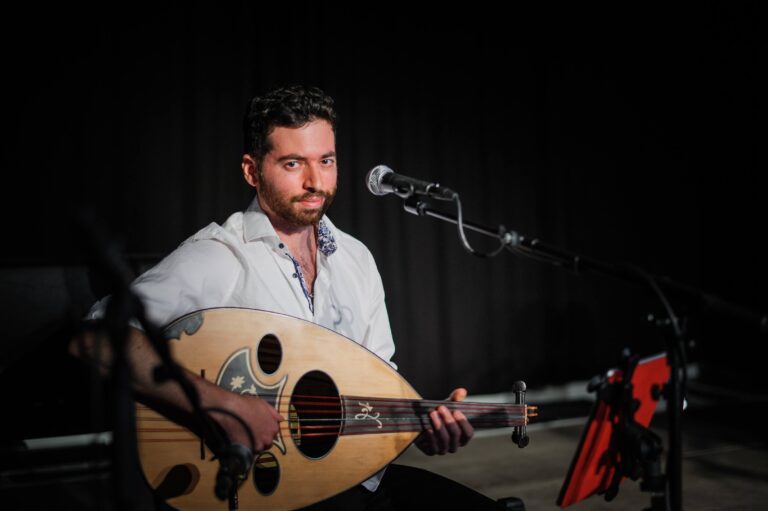 Doron was born in Tel Aviv and grew up in a family with a European and Oriental background. He is a self-taught multi-instrumentalist.
In 2013, he moved to Berlin to discover new musical paths. In Berlin, Doron regularly plays with masters of traditional musical styles from Iran, Turkey and India. 
Bei Folkadu spielt er eine traditionelle orientalische Laute, die Oud. Er präsentiert die zauberhaften Klänge des Nahen Ostens, gespielt mit dem Maqamat-System, in Kombination mit der musikalischen Charaktere des westeuropäischen Harmoniesystem, die auch von Musikstilen der Renaissance, Sephardi Andalusia und jüdischer Volksmusik beeinflusst sind.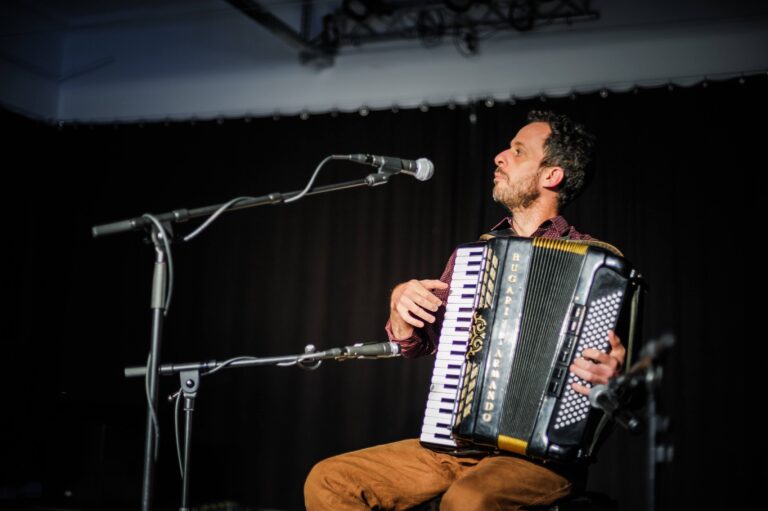 Ira is im Süden Israels geboren. Seit seinem achten Lebensjahr spielt er das Akkordeon. Mit 16 Jahren zog er nach Jerusalem, um die High School an der IASA – die Israelischen Akademie für Kunst und Wissenschaft – zu besuchen, wo er im Jahr 2002 ein umfassendes Musikstudium mit Auszeichnung absolvierte.
Im Jahr 2008 begann er sein Studium in der Rubin Akademie für Tanz und Musik in Jerusalem, das er im Jahr 2012 abschloss. In Israel spielte er in den darauf folgenden Jahren  als Solist verschiedenen Ensembles und Orchestern und wurde für zahlreiche Theaterproduktionen am HaBima Nationaltheater und am Yiddishspil, Israels jiddischem Nationaltheater engagiert.
Im Oktober 2016 zog Ira nach Berlin, um dort seinen musikalischen Horizont zu erweitern. Er konzentrierte sich heute auf die Musik des Balkans und besucht die Balkanländer mehrere Male, wo er Unterricht bei einigen der besten des Genres nimmt, um diesen anspruchsvollen Musikstil zu meistern