FOLKADU is a Berlin-based band founded by the singer and trumpet player, YAEL GAT. Influenced by classical, swing, balkan, klezmer and middle eastern music, the band features with its unique instrumental combination of trumpet, oud and accordion a fusion of well-known and lesser-known repertoire of JEWISH FOLK from around the world.
FOLKADU takes the listeners on a musical journey through stories about love, nostalgia, immigration, integration and optimism in Hebrew, Yiddish and Ladino, while playfully connecting those old tales to modern life. In addition to her singing and trumpet playing, Yael Gat presents a special playing technique on the shofar, an ancient musical instrument made of antelope horn which is usually played during the Jewish High Holidays in the synagogue.
FOLKADU appeals to people from all over the world, regardless of their age or cultural background. Jewish folk music is global music because its songs deal with everyday situations that everyone can identify with. Therefore the band wishes to build a bridge between cultures with their music and thus bring people closer together, while advocating for a pluralistic society.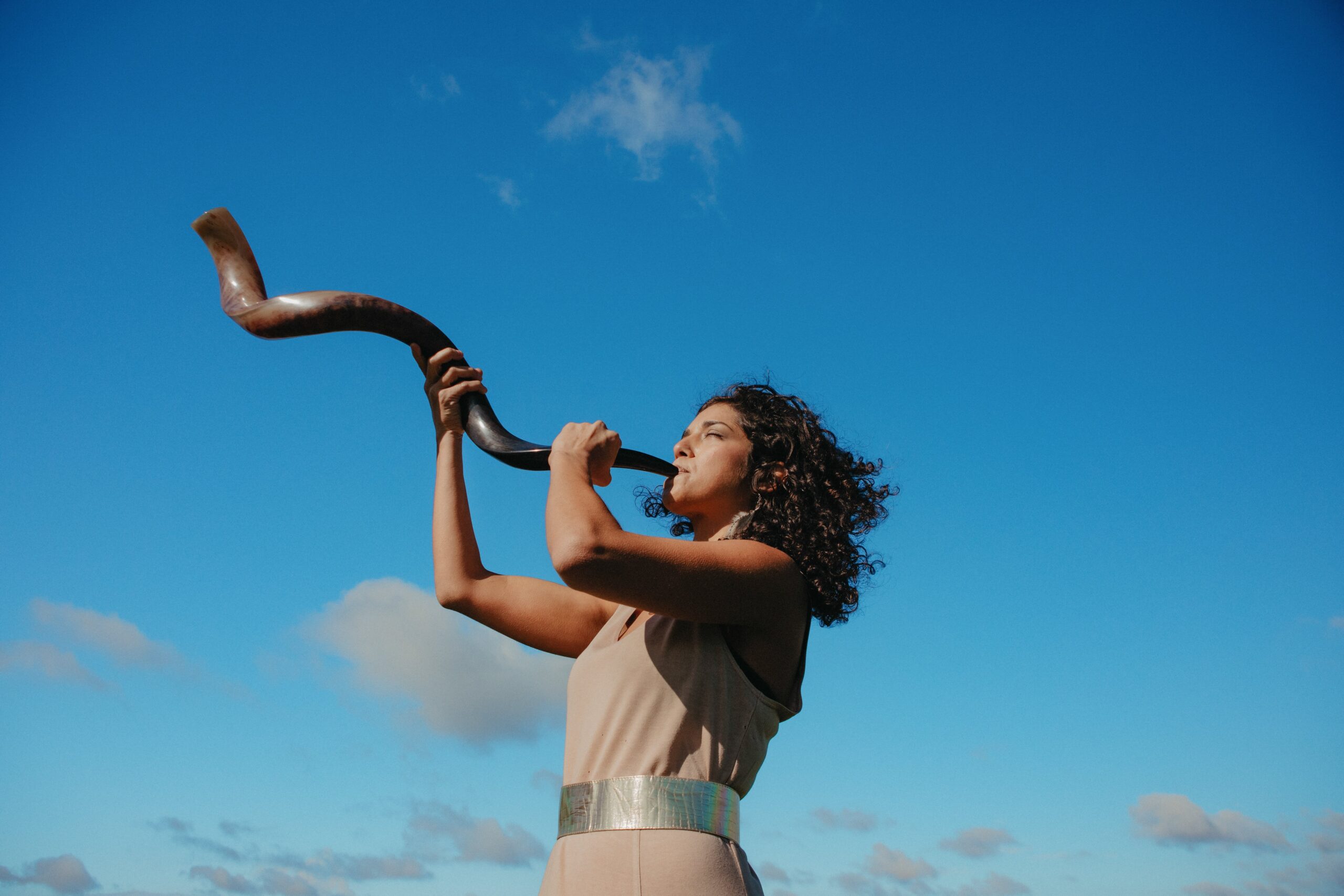 YAEL GAT – Vocal, Trumpet & Shofar
Yael was born in Haifa (Israel) and began her musical training on the trumpet there at the age of 11. She completed her Bachelor of Music degree at the Buchmann-Mehta School of Music in Tel Aviv, where she played trumpet as a soloist in the college orchestra and won 1st prize in the college chamber music competition. During this period, Yael played in the Buchmann Mehta School of Music Symphony Orchestra and toured with it, under the direction of Maestro Zubin Mehta, through Brazil (Salle Sao Paolo), the USA (Carnegie Hall NY) and Switzerland (Tonhalle Zurich). In Israel, she has performed with leading orchestras such as the Israeli Philharmonic Orchestra, the Haifa Symphony Orchestra and the Israeli Opera Orchestra. A special honor for her was her participation in the opera "Aida", a co-production with La Scala Milano Orchestra and the Israeli Opera Orchestra, conducted by Daniel Barenboim, in Tel Aviv in 2009. In 2013, she moved to Germany, where she completed her Master of Music degree at the University for Music and Performing Arts in Munich. After she had already lived in Germany for more than three years, far away from her family, her homesickness for her homeland became more and more intense. She increasingly missed her culture and the music that always accompanied her in her childhood. She longed for the moments she remembered at family gatherings as a child, such as when her grandparents spoke Yiddish to each other, when her aunt spoke to her sister on the phone in Ladino, when her father listened to a radio station every weekend that played the old Hebrew folk songs. This unique Jewish melting pot that was part of her childhood was missing from her life in Germany. She felt the need to express her personal imprint through her music. At the end of 2016, right after finishing her master's degree in Munich, she decided to take a different musical path and founded the music ensemble Folkadu, where she performed as a singer in addition to playing the trumpet. With Folkadu she performs a wide repertoire of Jewish folk songs in Hebrew, Yiddish and Ladino throughout Germany, giving audiences the opportunity to hear a mix of Jewish music from around the world. Today Yael Gat lives in Berlin. As a freelance musician she collaborates with numerous artists and serves a repertoire ranging from classical to modern electronic music.
On 12 Aug. 23 in Dorsten (in the Jüd. Museum), on 13 Aug. 23 in Recklinghausen (Jüd. GEMEINDE) you have guested. Your virtuoso skills on the oud, the accordion, the trumpet and the SCHOFAR. You not only know how to inspire your guests, you also get them moving...bobbing their feet, clapping to the beat, "dancing" with their bodies, with their heads. Long lasting applause, clapping ... until there is an encore from you, tears of emotion and joy, "MUSIC IS HONEY FOR THE SOUL"....you speak to the "Neschume". Music that touches the soul, and virtuosos who can create magic and spread mood with MUSIC. Come back soon..thank you very much you three MAGICIAN....eure enthusiastic listener and spectator....Sara-Rebecka Benet
On behalf of the Jewish Community Mannheim and its cooperation partners, I would like to thank you and your colleagues from the Ensemble Folkadu for your concert at the Jewish Culture Days Mannheim (Thursday, 14.10.2021). The numerous audience very much enjoyed your beautiful music and in addition your easy-going way of presenting the program in an interesting way. We received several exclusively positive messages from our audience immediately after the concert.  We are very happy to have chosen your concert and would like to invite you again.
"Folkadu gave a grand performance at our museum as part of 'Jewish Culture Now! Culture Days at the Jewish Museum Westphalia" in August 2021. The singer and trumpeter Yael Gat, accompanied by Pier Paolo Bertoli on accordion and Doron Furman on oud, gave our museum a performance that we will not soon forget. Traditional Yiddish melodies, Israeli songs, even a hit song that Rudi Carrell once sang, are part of their repertoire, but not as we know them. Folkadu combines jazzy sounds with oriental riffs and playfully alternates vocals with trumpet or shofar. In doing so, the band reinterprets the familiar and sounds sometimes jaunty, then melancholy and soon after cheerful again. The songs are commented on with wit and intelligence and performed with great commitment - a musical journey on which the audience is happy to be carried along."
"Nochmal vielen Dank für Ihre musikalische Gestaltung unserer Abschlussfeier der Woche der Brüderlichkeit 2018 im Alten Rathaussaal der Stadt München! Sie haben unserer Festveranstaltung einen wunderbaren musikalischen Rahmen gegeben und diese sehr bereichert. Ihr berührender Gesang hat die Herzen erreicht und wurde von unseren Gästen in gleicher Weise gelobt wie Ihr großartiges Trompetenspiel und die profunde Begleitung mit dem Akkordeon! Mit den besten Wünschen für Ihr weiteres musikalisches Wirken!"
"On 24.3.2019 the duo Folkadu performed in the synagogue of the Jewish Community of Oldenburg. The synagogue was packed with 80-90 visitors from our community and from the city of Oldenburg. Within a few minutes of the beginning of the concert, a connection was formed between the musicians and the audience. After the concert, the visitors were enthusiastic.The musicians also visibly enjoyed playing together. The alternation of beautiful trumpet playing, singing, accordion and drums and the different musical styles made it a very lively concert, which we still remember with great pleasure. From the organizational point of view, we can add that the cooperation with the Duo Folkadu was very straightforward. Since not many technical resources are needed, the duo can really perform anywhere, which is especially important for smaller communities. Finally, they are just very nice people, which certainly contributed to the positive atmosphere."
"Zum Auftritt von Folkadu in unserer Reihe "Wort & KlangZeit" erreichten mich viele begeisterte Rückmeldungen. Die hohe Musikalität der Musiker bei gleichzeitiger Zugewandtheit ans Publikum ist in dieser Form selten zu erleben. Die ausgewählten Stücke boten eine große Bandbreite an Emotionen und sorgten für einen intensiven Konzertabend. Wir hoffen auf ein Wiederhören."
DORON FURMAN – Oud
Doron was born in Tel Aviv and grew up in a family with a European and Oriental background. He is a self-taught multi-instrumentalist. In 2013, he moved to Berlin to discover new musical paths. In Berlin, Doron regularly plays with masters of traditional musical styles from Iran, Turkey and India. With Folkadu he plays the oud (a traditional oriental lute) and presents the magical sounds of the Middle East, played with the Maqamat system with combination of musical characters from Western European harmony system together with music styles of the Renaissance, Sephardi Andalusia and folk music.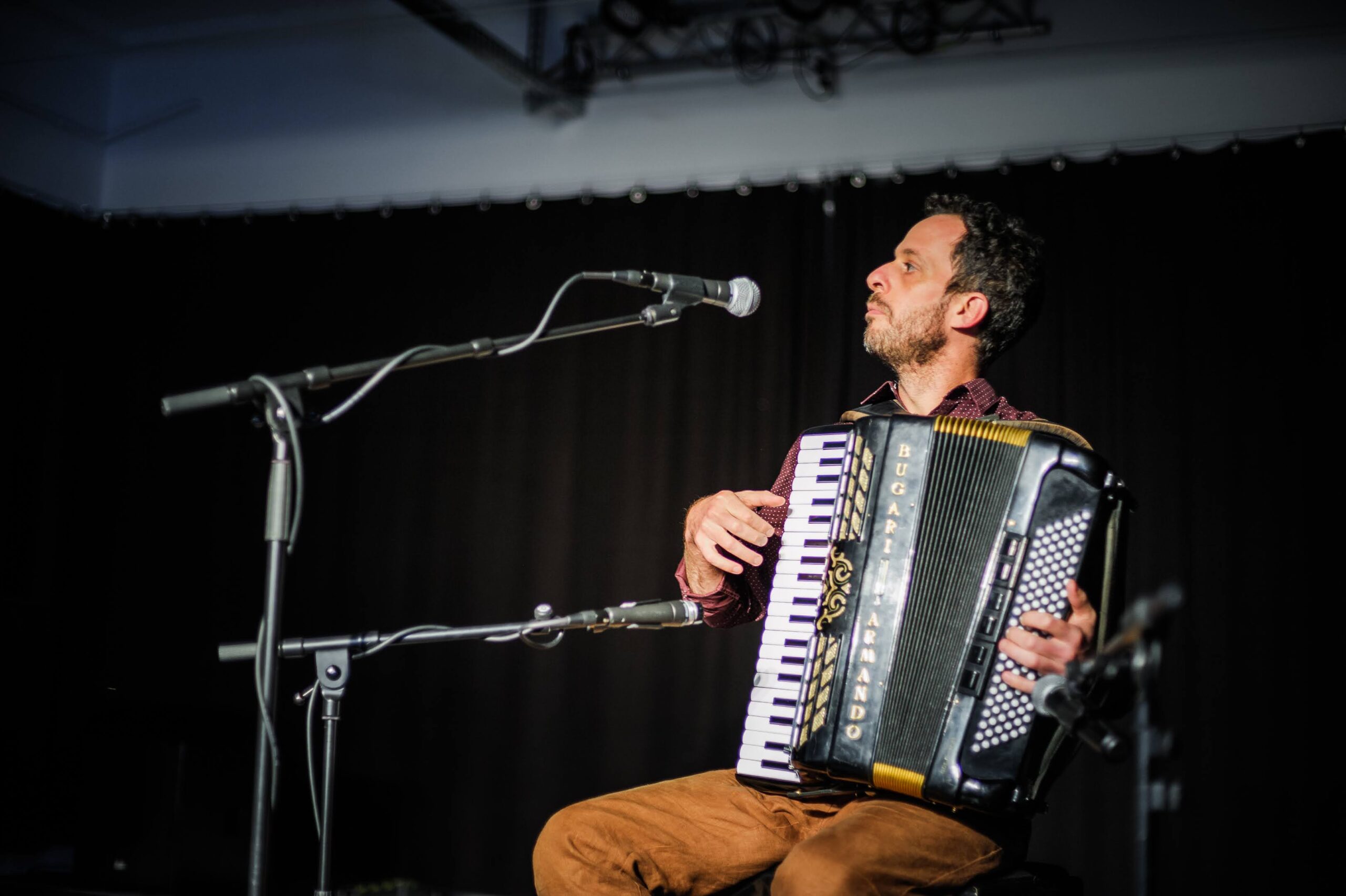 IRA SHIRAN – Accordion
Ira has been playing the accordion since the age of eight. Born and raised in the south of Israel, he moved to Jerusalem at the age of 16 to attend high school at IASA - the Israeli Academy of Arts and Sciences - where he completed a comprehensive music degree with honors in 2002. In 2008 he began his studies in the Rubin Academy of Dance and Music in Jerusalem, graduating in 2012. In the next years he played in different ensembles and orchestras in Israel as a soloist and as an orchestra member with several symphony orchestras and was engaged for numerous theater productions at the HaBima National Theater and at the Yiddishspil, Israel's Yiddish national theater. In October 2016, Ira moved to Berlin to expand his musical horizons. In his accordion playing he focuses on the music of the Balkans and he even visited the Balkan countries several times in order to take lessons with some of the best players in that genre.